Sometimes email just dose not work. You have setup your domain, created email addresses, set them up using IMAP or POP and yet it dose not feel right. Emails you send end up in the junk box, you are constantly running out of space, you have no confidence in the delivery and are unsure whether it has arrived.
So at Ellison IT Services Ltd we provide the following solution.
We move your current email setup to Microsoft Business 365, there are no ongoing support charges or long term commitments with our selves we simply do the work charge you accordingly and then leave you to work direct with Microsoft long term. Obviously if you do want our help in the future or want to setup a business to business relationship we will be happy to discuss.
Give us a call: 01457832330 or email us: enq@ellisonit.co.uk to discuss your requirements.

Backup current eMail Data and migrate eMail from current provider to Microsoft 365 Exchange.
Create New Email addresses on Microsoft 365 platform and add Aliases to each account to represent users as required.
Setup shared mailbox for mail distribution as required for up to 5 mailboxes.
Setup and configure Microsoft Office Onedrive and share folders as required by customer.
Microsoft 365 Business Basic
• Host email with a 50 GB mailbox and custom email domain address.
• Create a hub for teamwork to connect people using Microsoft Teams.
• Use Office apps for the web, including Outlook, Word, Excel, PowerPoint, and OneNote.
• Store and share files with 1 TB of OneDrive cloud storage per user.
• Facilitate online meetings and video conferencing for up to 300 users.
• Get help anytime with around-the-clock phone and web support from Microsoft.
Compatible with Windows 11, Windows 10, Windows 8.1, and the two most recent versions of macOS. All languages included.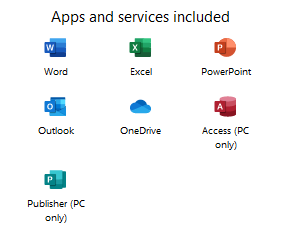 Microsoft 365 Business Standard

Everything in Business Basic, plus:
Desktop versions of Office apps with premium features
Easily host webinars
Attendee registration and reporting tools
Manage customer appointments
Microsoft 365 Business premium
Everything in Business Standard, plus:
Advanced security
Access and data control
Cyberthreat protection